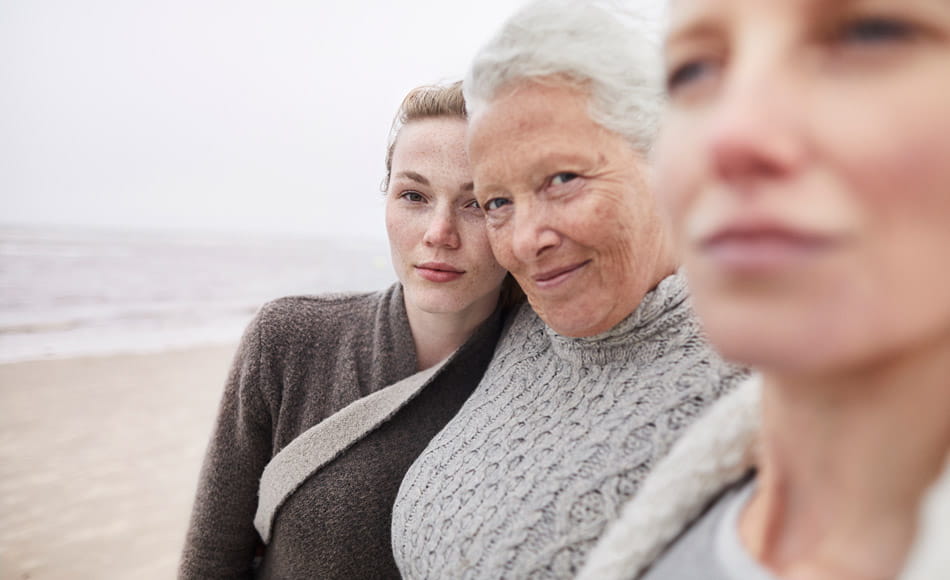 What types of brachytherapy can be used for treatment of this cancer type?
Brachytherapy is a type of radiation therapy to treat cervical cancer. Depending on the tumor stage, it can be performed with intracavitary or combined intracavitary/interstitial technique.
Intracavitary brachytherapy – a device containing a radiation source (an applicator) is placed into the vagina (open cavity), close to the cervix uteri.
Intracavitary/interstitial brachytherapy – when the tumor is big, a few needles are placed inside the tumor in addition to the applicator. Needles allow the radiation to kill the cancer cells in the whole tumor volume.
Modern brachytherapy uses Magnetic Resonance Imaging (MRI) or Computed Tomography (CT) images to control the position of the tumor and the radioactive source. This type of brachytherapy is called Image-guided or 3D brachytherapy, and it can be either intracavitary or interstitial.1
How brachytherapy for this cancer type is performed.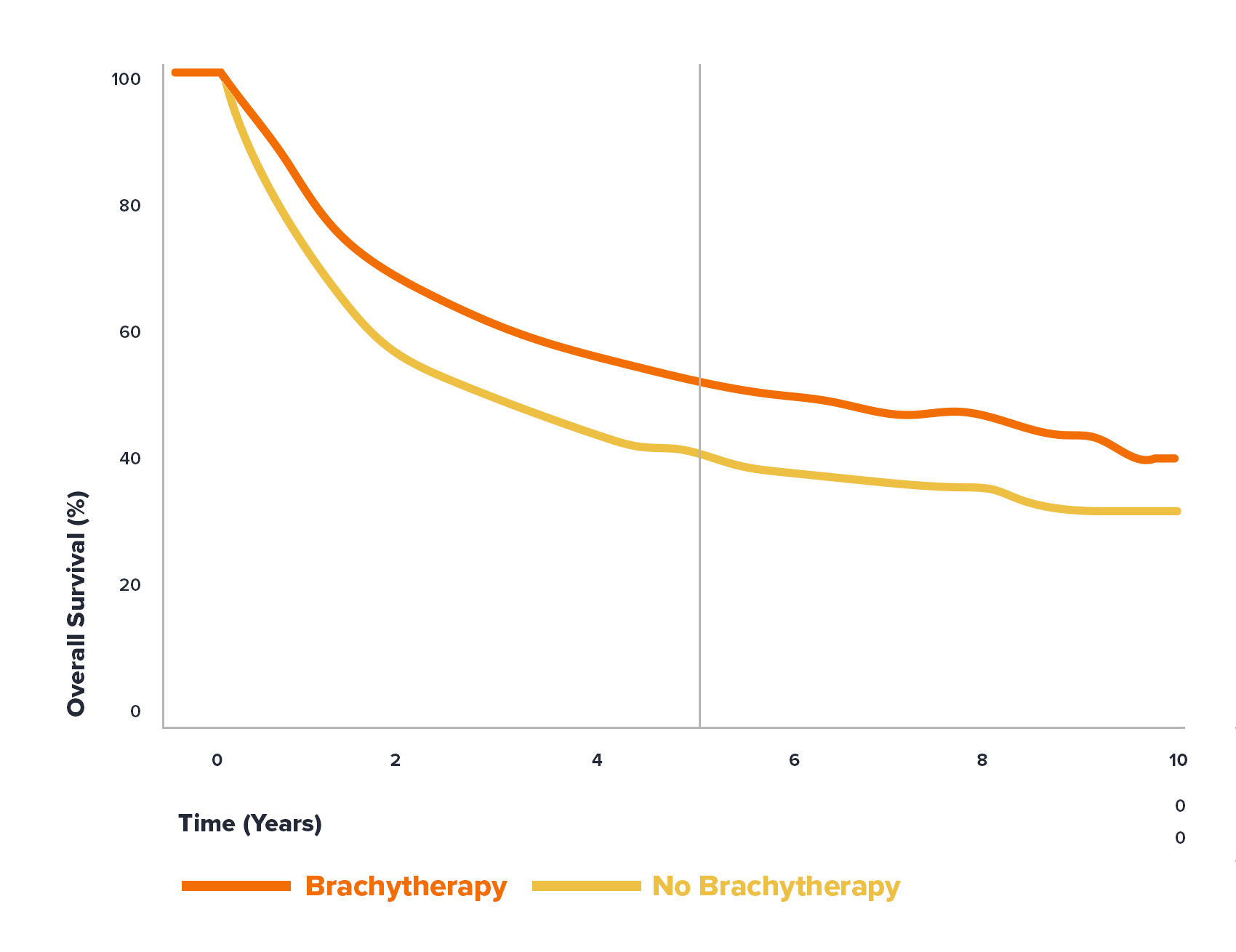 How effective is brachytherapy?
Results of a large study compared the treatment outcome of cervical cancer with or without brachytherapy. It showed a clear advantage in the survival of patients at 5 years when brachytherapy is added to the treatment (54% with brachy vs 42% without brachy) (see picture 1).2 It means that patients who received brachytherapy lived longer.
This study was performed in the era before Image-guided brachytherapy so the survival rate was much lower than today. However, even adding conventional 2D brachytherapy the survival rate was improved.
Picture 1. Overall survival in patients with cervical cancer treated with brachytherapy and without brachytherapy2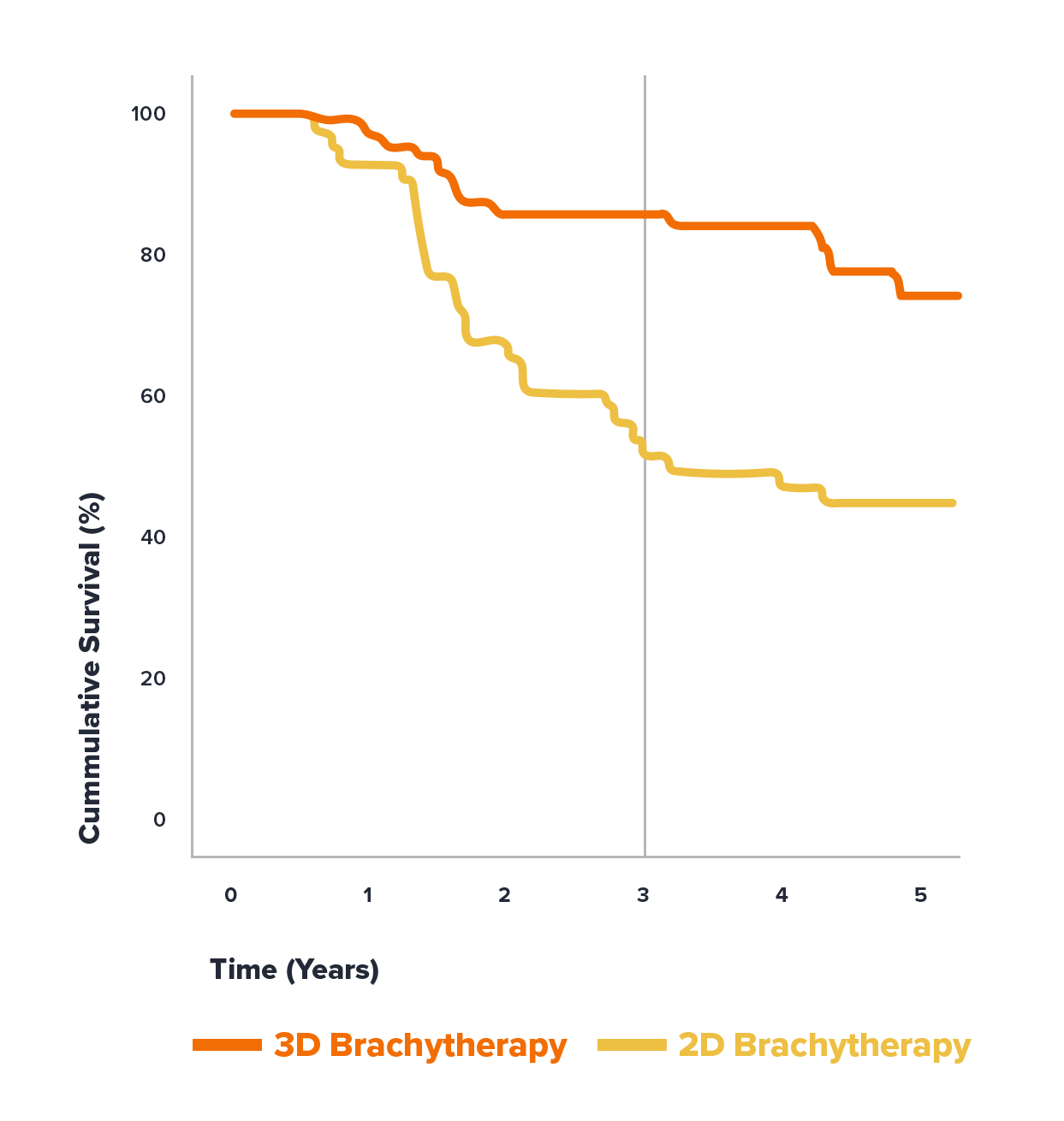 Image-guided brachytherapy makes the treatment more precise which further improves the survival rate.
A study from the Netherlands showed a big difference in overall survival after image-guided brachytherapy compared with conventional 2D brachytherapy at 3 years (86% vs 51%) (see picture 2).3 It happens because brachytherapy under CT - or MRI-guidance is more precise. It targets the tumor but spares surrounding healthy tissues and organs.
Picture 2. Overall survival in patients with cervical cancer treated with conventional brachytherapy and image-guided brachytherapy3
According to a multi-centre international EMBRACE I study which included 1341 patients with cervical cancer, MRI-guided brachytherapy ensured local control (the tumor after treatment didn't grow back) in 92% of patients through all stages at 5 years.
In women with stage 1B1, the local control at 5 years was even higher - 98% (see picture 3).4 It means that the earlier the diagnosis then the better results can be achieved but if MRI-guided brachytherapy is added into the treatment, it ensures very good treatment results at any tumor stage.
Picture 3. Local control in patients with cervical cancer (data from the EMBRACE I study).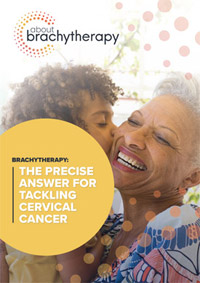 Brachytherapy:
The Precise Answer for Tackling Cervical Cancer