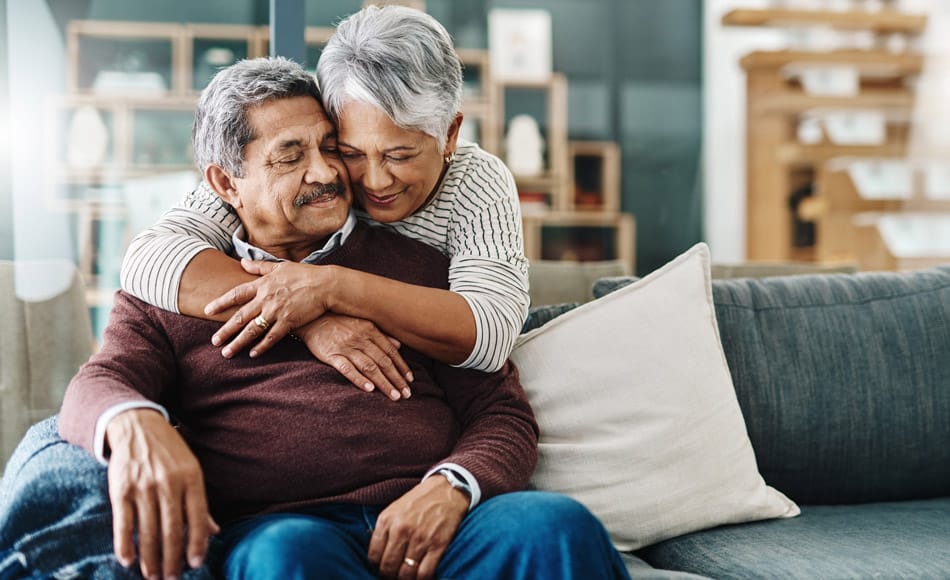 What types of brachytherapy can be used for treatment of this cancer type?
There are two types of brachytherapy which can be used to treat prostate cancer:
Low Dose Rate (LDR) brachytherapy – also referred to as 'seed therapy' or 'permanent seed implantation'. Tiny radioactive seeds, about the size of a grain of rice, are permanently placed inside the tumor. The seeds give out low levels of radiation for a few months, killing the cancer cells.
High Dose Rate (HDR) brachytherapy involves the temporary placement of a radioactive source to treat the tumor. In contrast to LDR, no radioactive material is left in the prostate after treatment.
HDR brachytherapy has been shown to be an effective treatment for low, intermediate and high risk prostate cancer.
It is often given in combination with external beam radiotherapy (EBRT), as it can provide an additional dose of radiotherapy to help prevent the cancer from returning. Some centers offer HDR brachytherapy as the sole method of treatment as it is a very effective and quick treatment, making it very convenient for many patients. Your doctor will be able to advise you if HDR brachytherapy is a possible treatment option for you.
LDR brachytherapy has a longer history of clinical usage than HDR brachytherapy. LDR and HDR brachytherapy show similar results for treatment of prostate cancer. However, since LDR radioactive seeds remain in the body, the radiation protection for patients and families could be an issue. Moreover, active seeds can migrate outside the prostate.
How brachytherapy for this cancer type is performed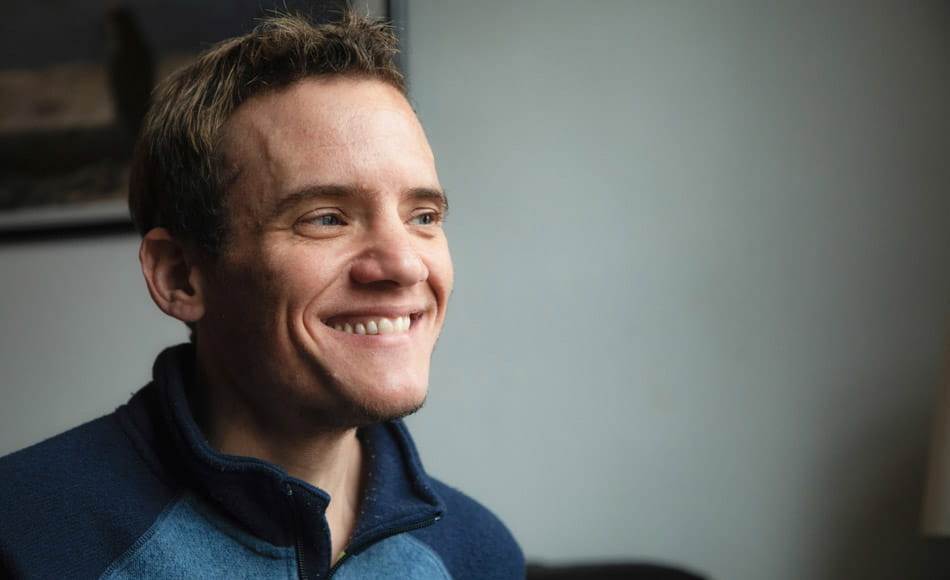 How HDR brachytherapy is performed.
There are different ways to perform HDR prostate brachytherapy:
Insertion of needles can be done under guidance of Computed Tomography (CT) - conventional approach.
Insertion of needles can be done under guidance of Ultrasound throughout the whole procedure - real-time brachytherapy.
A difference between conventional and real-time prostate brachytherapy is that for real-time procedure the patient doesn't need to be moved for CT and back to the treatment room, everything is organized in one room. The total duration of the real-time procedure is 1 approx. 1 hour, for conventional treatment this will take longer due to patient movement.
How effective is brachytherapy?
A large study from Germany including 718 patients reported that HDR brachytherapy ensures a great outcome: biochemical control in prostate cancer after 8 years 90%, and metastasis-free survival 97% (picture 1).1 Biochemical control means that 90% of patients were free from an increase of PSA (biochemical recurrence) after 8 years. Metastasis-free survival means that 97% of patients had no metastases after 8 years.
Picture 1. Biochemical control and survival in patients with prostate cancer treated with HDR brachytherapy2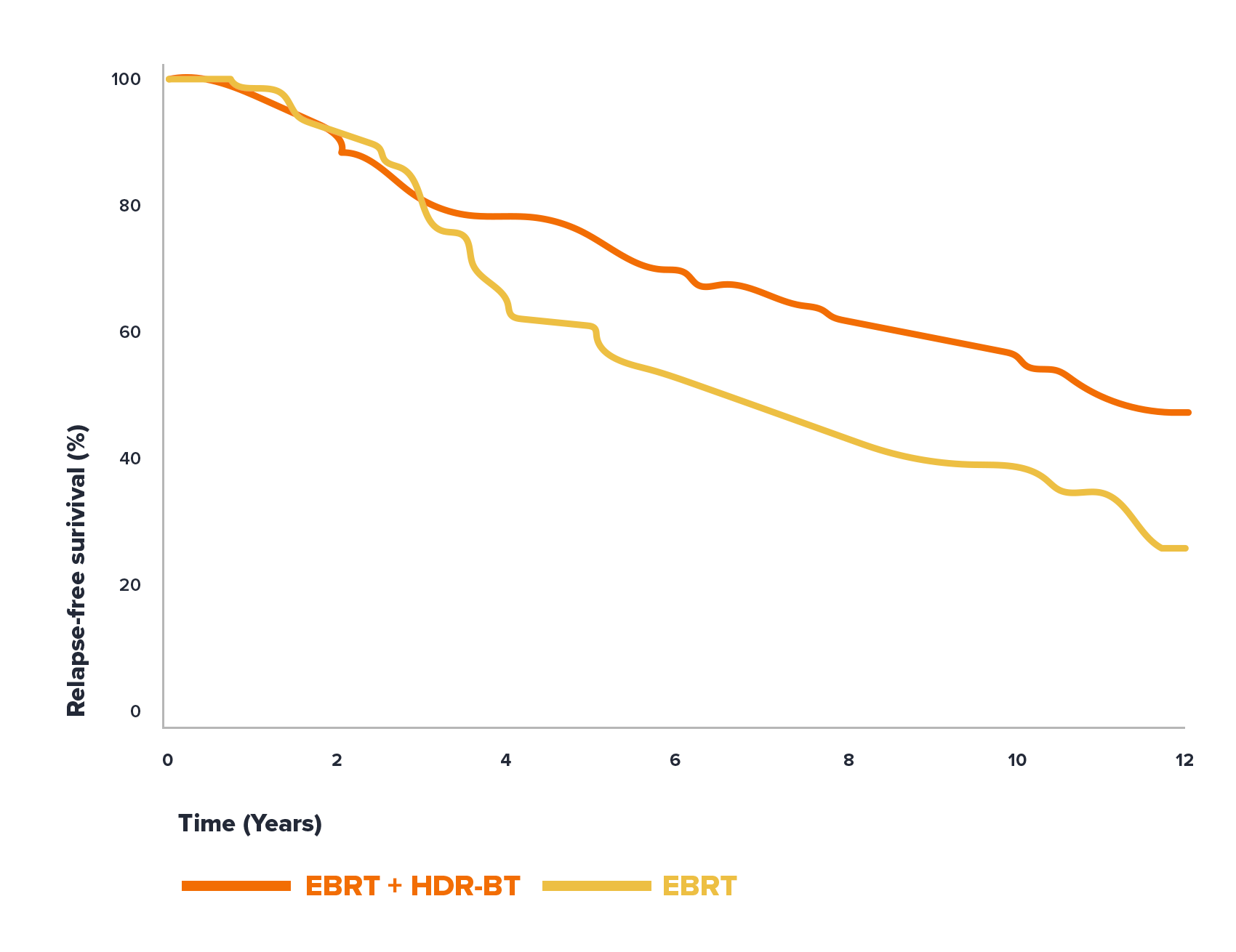 Results of the UK trial comparing external beam radiation therapy (EBRT) alone and EBRT + high dose rate (HDR) brachytherapy shows advantages in relapse free survival when brachytherapy is added to the treatment (picture 2)2: 55% and 71% at 6 years and 27% and 48% at 12 years.
It means that when brachytherapy was added to the treatment, 71% of patients didn't experience cancer in the next 6 years and 48% didn't experience cancer in the next 12 years.
Picture 2. Relapse-free survival in patients with prostate cancer treated with EBRT + HDR brachytherapy and only EBRT2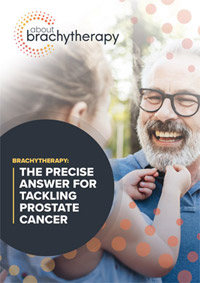 Brachytherapy:
The Precise Answer for Tackling Prostate Cancer